How quickly to reverse a video in Photoshop or your animation.
This is short instruction how to make a video go forward and backward / reverse by using Reverse Photoshop Action. In most cases it will be very helpful for peoples who create Cinemagraph effects where reversal video needed. I created a special Photoshop Action that help you convert your video to reversal video in one click and after you can create Cinemagraph effect with reversal animation.
This Photoshop Action Absolutely FREE for downloading:

How to reverse a video sequence in Photoshop:
---
First we need install our action:
1. Inside Photoshop, go to the 'Window' menu and select 'Actions'. A window will now appear to the right hand side;
2. Inside the Actions window, click on the top right hand corner icon to reveal the drop down menu. From here select 'Load Actions…'. Select the action;
3. The action will now appear in the actions panel;
---
After import your video and create reversal video in Photoshop:
4. Import your video layer that you want create a reverse animation;

5. Set the duration of the time (1 sec. / 2 sec. / 3 sec.)
6. Select action and click "Play". (Be careful, before play the action check the FPS (Frames per second) and only after select the action with your fps)
7. You created a reversal animation less than 1 minutes.
8. Enjoy.
---
Also you can see the video tutorial "How to Reverse the Video Layer in Adobe Photoshop CC"
VigorMotion Photoshop Plug-in
is a professional and very powerful tool for animation in Photoshop. VigorMotion is the best solution on the market for users who need beautiful animations for creative projects.
VigorMotion include 2 modes for creating animation. Now all you need to do is select mode and adding the animation to your element in Photoshop. You can also customize the duration of the animation, point or scale, speed, path, etc.
Make your design project visually interesting and amazing quickly, conveniently and effortlessly!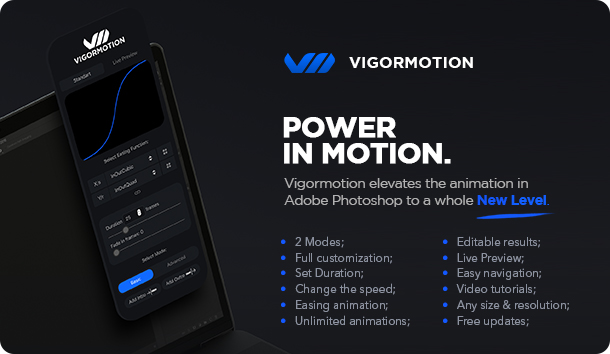 ANIMATOR Photoshop Plug-in
is a professional multipurpose pack of 200+ presets that can speed up your workflow in Photoshop. Animator is the best solution for users who need beautiful animations for creative projects. This Photoshop Plug-in for animation contains lots of handy items in many different styles. You can easily add animation to your design and get the results in a blink of an eye. Just choose the animation (intro or outro) from the preview and click on it to add the animation. Now all you need to do is select your object and adding the preset animation to it.